Shopping Cart
Your Cart is Empty
Thank you for your business!
You should be receiving an order confirmation from Paypal shortly.
Exit Shopping Cart
LED Strobe & 12 " Visor Kit
Kit is sold complete with Hi Output LED Strobe bar attached to Visor for mounting to existing 12" Traffic Signal Head. Also includes power supply which connects to the LED strobe bar and allows choice of 8 different flash patterns. Can be ordered for use with AC or DC input.
Specifications : http://www.msiled.com/strobefly4_12.pdf
AUTO DIM1
Automatic Dimmer for 12 VDC LED Loads (Lights, Strips, Modules etc.).
This device is connected between the LED Load and the LED power source (12-24vdc). It has a 1/2" threaded nipple that allows it to be attached to a standard electrical box or enclosure. Dimming can be preset from 10 to 70% using the DIP switch provided. Upon sensing the absence of light the Dimmer will Pulse Width Modulate (PWM) the output voltage to the load reducing the Power by the percentage that was preset. There is a power indicator and Ambient Light sensor next to the DIP switch. Entire module is epoxy encapsulated for harsh outdoor environments. Cover is provided and should only be used if you want to keep the output in a constant dimmed state.
HUM1 Long Range Transceiver Switch
The HUM1 is a simple to operate bi directional transmitter and receiver. This device is programmed and ready to go right out of the box to provide a wireless remote switching capability to any system, sign, or device. Featuring Frequency Hopping Spread Spectrum for accurate transmissions with little to no interference. A simple contact closure at the transmitting end will provide a relay closure at the receiving side. Followed by an Acknowledgement from the receiver back to transmitter. Both FCC and IC certified. Also includes 128 bit encryption to prevent hacking. Simple apply 12 vdc to each unit and you are ready to operate. Includes screw on antenna. Operates in the 902-928 MHz frequency band.
SMARTWALK XP-S Pedestrian Sensor
The SMARTWALK XP-S is a microwave based pedestrian presence sensor. Designed for curbside hands free activation of crosswalk signs or pedestrian signals. Capable of detecting pedestrians curbside while ignoring stationary objects. Also can activate warning lights or signs at trail crossings.
Low power operation is perfect for solar applications.
2 Channel Alternating Flasher
FLASHER, 2 Channel Alternating Output
A high quality low cost flasher to providing two independent channel outputs designed to flash 2 lamp loads alternately at 55-60 flashes per minute. ( Custom flash rates may be ordered). Available for both AC or DC lamps. Prewired with 2 feet of lead and moisture sealed for reliable operation. Mounts inside a signal head with included industrial velcro. Measures 2" x 3" x 1.5.
Specification download : http://www.msiled.com/flashflytogo.pdf
Visor Strobe Kit
Magnetic Vehicle Detection
Magnetic Vehicle detection is a technology that has been in use since the 60's. It is a very reliable method of sensing the passage of a vehicle. Vehicles can be as small as a bicycle or as large as a tractor trailer. The magnetic detector only senses change in the magnetic field caused by a ferrous object. A person or animal walking over it will not cause a detection. The sensor is installed under the lane of traffic to be sensed and is wired back to the Magnetic Amplifier module that can be rack or shelf mounted in a traffic control cabinet. The sensor probe can be buried under the roadway, trenched into the road way or tunneled under the roadway from the side. It can also be bolted to the underside of bridge structures.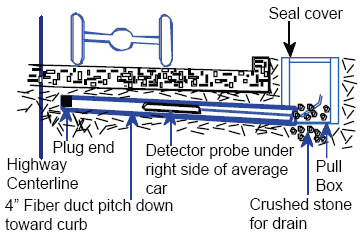 /